I'm at this site because I have a slant six (in a full size dodge van) and i like cars. If i wanted religious and political conversation (which is right up there for excitement with watching grass growing for me) I'll go to a site for that.
And as far as criticizing others, well, that's how wars start.

_________________

If at first you don't succeed, don't try skydiving.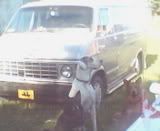 1984 dodge /6 with Lady, Evony and Breeze