Good suggestions...thanks.
My current dillema is this however:
The previous owner did something horrible/idiotic to the side of the original 76 engine that involved thoroughly wrecking the distributor.
He must've been prying with a prybar in that vicinity in order to try to get the head off??? I don't know.....but he just wrecked the EI distributor. The oil filter has similar pry marks on it as well, which gives me reason to believe that he was doing something like this.
Anyway...I could speculate about what complete fool thing was going on there until the cows come home, but the long and short of it is that I need a replacement/new 76 dizzy. Any suggestions? NAPA has one listed for around $60.
(until then, I've gotta get these points adjusted
)
_________________
1954 Ford, Tudor Mainline
1976 Plymouth Valiant, 4 door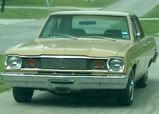 www.automotive-ninja.com